our family feels truly blessed indeed.
I may have mentioned, once or twice in passing, that Parker is a VERY expensive kid.
It has become rather the norm for us to find little surprises in our mailbox telling us that we owe ANOTHER $1,200 or (ah!) SEVEN THOUSAND dollars in medical fees.
It seems as though Reed and I made a major technical error in paying each bill as it came in since Parker was a newborn. Because now, when the savings are dry, the fundraising coffers are bare, and our checkbook empty 30 seconds after we get paid…….the medical institutions still want to be paid.
Yesterday.
Yeah. They are real easy to work with that way.
I was told by one bill collector employed by PCMC that if we did not have insurance they would not even bother to call us. But since we have insurance AND have been so stupid as to pay our medical bills…….that we can pretty much count on being hounded until every last penny has been collected. And the "let it go to collections and pay five bucks a month" theory? Does not seem to be an option for us. And, boy have I checked into it. Even when we sent information IN WRITING to PCMC informing them that the rest of our grant would pay the over TWO THOUSAND dollar food bill Parker ran up during his last surgery, they STILL turned us over to collections. (Our insurance pays for NOTHING feeding related.)
Yet another bite in the butt for the middle class guy working his butt off and trying to do things right.
I could go on and on. The $130.00 a month for the probiotics Parker needs due to his issues with c-diff. The out of pocket cost for his big time Viagra habit. Since we are using Viagra off label our insurance company nails us for it.
Ah. Our insurance company. Great guys, those.

And did I tell you that Parker has surgery this Friday? One that carries more risk due to his Pulmonary Hypertension? And while the in hospital recoup time is usually only about 4 days, when you add the PICU stay that Parker will need to stablize his after surgery PH levels……well, we could be there awhile.
Give me a moment while I hyperventilate.
But not all is gloom and doom. Cause well, we have friends. Amazing ones. Ones who offer prayers. Ones who check in on us and make sure we know they are thinking about us. And ones who do stuff like this: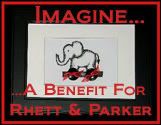 And This:
Books for a Cause! From Joey and Jessica.
And not to forget this:
The Original Crackerjack Site that is designing a beautiful book for Parker
Or this:
So many friends. So many dreams of our family to one day be the ones doing the giving to bless others that find themselves on this very same path.