this antibiotic might just be what has been needed to remedy Parker's latest bout with the Creeping Crud living in his sinus'.
His sats the last few nights have been much better. Not as good as they had been, but at a level where I'm not panicked to close my eyes here and there during the night.
I took a few pictures to document the hopeful renewal of Parker's health. Keep in mind that the room was totally pitch black when I shot these. I had to take what I could get with the hopes that I wouldn't wake up Parker…..or worse, Reed. Trust me. I do whatever I can to insure that Reed gets his beauty sleep. Makes my life MUCH easier. 😉
Right before we put the CPAP on Parker
After we put the CPAP on…….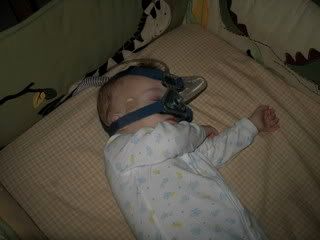 And many thanks to my sweet friend Chris and her little guy Arman for the jammies Parker is wearing. Arman who is a year younger than Parker and twice as big…..sigh……lovingly passed on his outgrown jammies to our guy. We have to cut off the feet of all of Parker's jams and then hem up the raw edge so that we can run his O2 line down the back and out the foot PLUS we need the foot free so we can attach the Pulse-Ox monitor to Parker's foot. Each night when I get Parker ready for bed I think of Chris and Arman.
The Pulse Ox monitor has been looking pretty good the last few nights. The top number records Parker's O2 levels. We perfer it to be over 95, but this is way better than it has been. The bottom number records his heart rate. Perfect for Parker is in the 60's. But again this is so much better than the 120's that it has been in.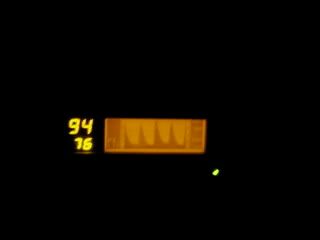 Parker goes in on Monday the 25th for the sedated echo. Afterwards we will have the Chloride or Sweat Test performed to check out the possibility of CF. In my heart of hearts I don't believe that CF is going to be an issue for us. But it will be nice to be able to rule it out.
So, with a little luck, things just might be starting to turn around.