We let Parker sleep au natural last night hoping the air would help his poor tush. It is less red today, but the areas where his skin has sloughed off are still weeping.
Parker's surgeon said that it wasn't unusual after a PSARP for a child to have to be re-admitted to the hospital because of infections and the like on their brand new designer hineys.
I'm determined to make sure that Parker isn't one of those kids.
For the first time ever Parker is showing interest in our Christmas Tree. He's pulling off ornaments with the best of them this year.
And we are thrilled.
Because this is one more thing he didn't have the health or energy to do last year.
Four years ago a kid pulling off Christmas ornaments would have driven me mad. Funny how my attitude has changed.
Little things. They can be magic.
From my Just Because I Love Ya File: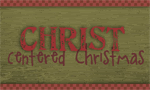 Go. Click. Find a new tradition or two for your family. That's what I'm planning to do.
And finally:
Ever had a quote just reach out and grab you by the heart?
'IF YOU CAN'T SEE THE BRIGHT SIDE OF LIFE, POLISH THE DULL SIDE'
It's as though it were written just for me.