In our never ending quest to pay the mortgage and keep a lot of stomachs full,  I'm tweaking the way our family buys groceries…and what we eat…..again.
In my area the coupon deals just aren't what they used to be.  Some amazing deals still show up, but mostly for packaged stuff that I could still make cheaper at home by scratch.
I'm gearing up to go back to using Bountiful Baskets, and I've also heard some good things about Zaycon Foods. A few weeks ago Zaycon foods had a fantastic deal on salmon.  More than our budget could afford, but excellent none the less.  If Zaycon amounts for just your family, consider splitting an order with another family or two.
I wouldn't consider myself a prepper as much as I believe in being prepared.  One thing that kept us going during Parker's first years were my well stocked pantry.  Because of that I'm working to restock my pantry.  Just differently this time around.  A cheaper, but healthier version.
The shock and awe that are rising food prices these days makes this a smart, if necessary move.
Enter grain storage.
I store grains in several ways.  I have wheat stored in 25 pound buckets.  I got a remarkable deal on 25 pounds of buckwheat, sealed in mylar bag, sealed in a 25 pound bucket. I have brown rice in my freezer, as brown rice is known to go rancid quickly.
My sweet Mom brought me over 50 pound bags of both Quick and Regular oats. I'm looking for recipes to use those up in. That's a lot of oats even for a family the size of ours.
That's another thing I'm working on. Eliminating food waste. Might as well be throwing cash in the garbage or compost pile.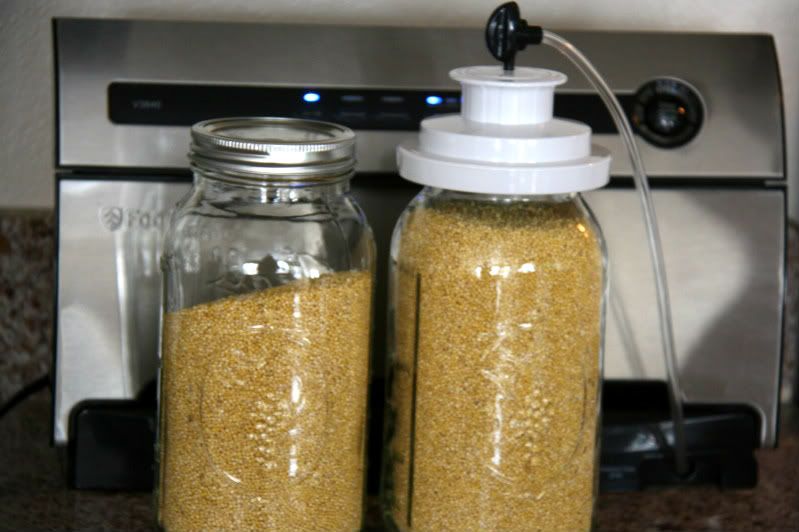 I used my Foodsaver to vacuum seal these jars of millet, pulling out the extra oxygen and giving the lids a good seal. I've seen Foodsavers for as low as $69.00 on the Foodsaver site!
Other grains that we use I store in half gallon jars.  These are grains that I can't afford to purchase 25 pounds of, but still purchase at least 10-15 pounds of 'cause buying in bulk is cheaper.
This jar! A beautiful yard sale find! Imagine my surprise when I saw my .50 cent purchase cost a LOT more on Amazon. woot!
In my pantry I have smaller, quart sized jars, full of grains ready to use.  As these jars are emptied I refill them from the larger vacuumed sealed jars.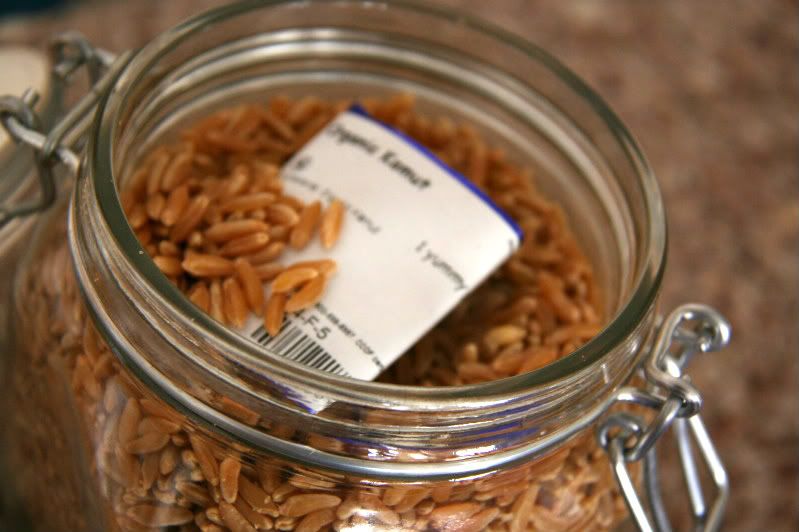 I've also found it handy to keep the cooking instructions in my jars. Old age ain't for sissies, people. heh.
Barley, Kamut, and Millet.
Having these mason jars filled with grains reminds me of living at my Granny's house. She used mason jars for every thing from drinking glasses to kitchen canisters, as well as canning.
I'm learning to use these grains in bread making and in Parker's blenderized diet. (I almost passed out when I saw a loaf of spelt bread in the store for $5.00. FIVE dollars for ONE loaf of bread.) I'm s-l-o-w-l-y introducing them into my family's diet. Brown rice has always been a staple around here, but some of these other grains are a bit exotic
When purchasing in bulk, and cooking from scratch, I can put a healthy side dish on my table for the same price as a box of double couponed Stove Top stuffing.
What changes are you making to provide healthy, yet affordable meals for your family? I LOVE reading other people's ideas!
PS:  Did you know that 1 cup of cooked quinoa provides about 18 grams of protein?  Yup!