A Facebook friend posted this today:

From your child with special needs: "Now I lay me down to sleep, I pray the lord to give me words to speak. But if they never come this way, let my mommy know everything will be ok.
Boy, howdy, did this one hit home. I've been thinking of it all day.
I knew when we trached Parker that it could and most likely would, muck with his ability to learn how to talk. When your kid is facing a slow death by an insidious disease, your first thought is keeping him alive, not if he'll grow up to be the family motor mouth.

He can always learn to sign, I remember thinking. Just as long as he can communicate somehow.
Parker's favorite form of relaying information is insisting that I read his mind. This has about a 40-50% success rate. It's a strategy that is not only failing fast, but frustrating the hell out of both of us.
The iPad has opened an entire new world for the Hero. My First AAC is fantastic. But as with many apps, Parker goes to touch the screen and his touch isn't strong enough to trigger the sound. Oh, he's capable of it, he just likes to make me insane.
I purchased this book to help strengthen that pointer finger of Parker. He can pop every single 'dot' in this book. Put the iPad in front o him and that index finger goes all limp noodle.
Signs I know Parker can perform come and go at his sole discretion…….say if he's starving to death. Or wants a new DVD or go outside.
A wonderful speech therapist comes once a week from the school district via their Home/Hospital program. It's not enough. He needs more one on one with someone who knows what they are doing, with me providing the daily reinforcement. I've been working to see if there are other avenues we can pursue to get at least one more session a week.
Until then, I'm turning to the only other resource I can think of: ME.
Blurry. I know. He was being bounced on the ball.
I'm not ready to believe that words will never come to Parker. Though he may never become a great orator, just being able to communicate the basics would make this Mama's heart soar, and then we could rely on sign an the iPad for the rest.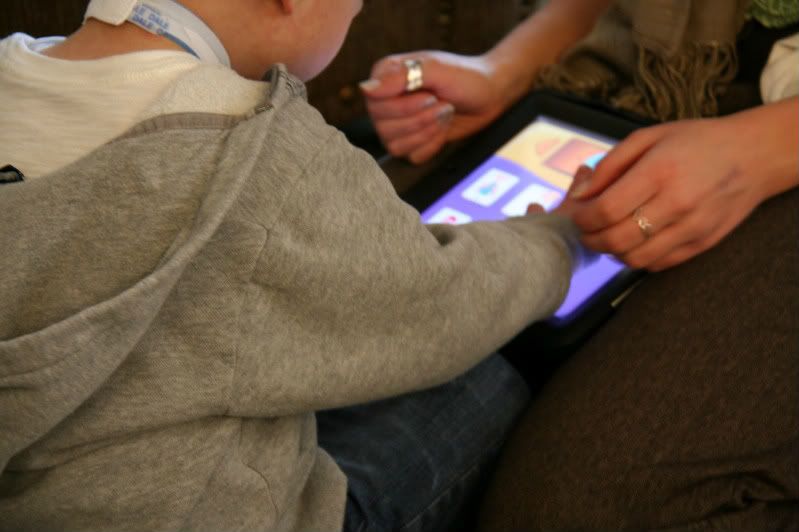 I'm regrouping. Rededicating. And praying for the direction and knowledge of how to engage Parker and make him interested in communicating.
Your prayers for inspiration would be greatly appreciated. So would any ideas you've successfully used in convincing your child of the importance of communication.