Well, I am here to tell you that all of the hours of therapies for Parker has indeed helped to bring on a brand new milestone.
Parker can now, ALL BY HIMSELF………
REACH DOWN
AND REMOVE HIS DIAPER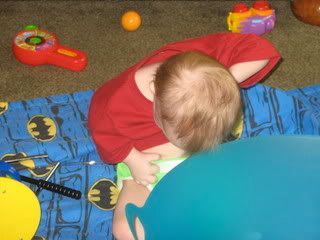 I'd share with you what happened next, but, well, this being a family blog and all……..even the cutest of tushes such as Parker's may be deemed indiscreet.
Let's just suffice it to say that it included a puddle and a little boy who was mighty proud of himself and his newfound skill.
Sigh…… such a typical Hodson boy.
You can find other Wordless Wednesday posts at: www.5minutesformom.com