My Mom and Parker hung out for awhile together yesterday. They share this mega mutal admiration thing. They both think the other hung the moon.
They did a lot of fingerplays. A whole lot, lol!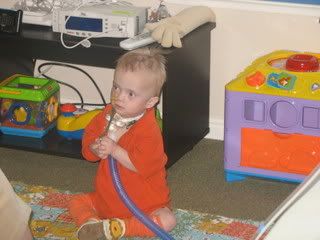 Parker loved every minute of it and was ready for more. My Mom, however, was exhausted.
And we discovered a great secret. Did you know that your Pediatrician can request that a nurse comes to YOU when you have a medically fragile child and that child needs a blood draw. Yup. It's funny cause a friend had just asked me about this right before Parker's new doctor called and told me a nurse was on her way to draw a new crit from Parker. Yeah. I'm still kicking myself for not switching over months ago.
Parker's red blood cell levels came back unchanged from the last week. From now on there will be a nurse coming to our house each Monday to draw a crit and keep an eye on Parker's levels. Parker's doctor doesn't want him around anyone that could be sick. Newly trached and medically fragile, she wants to be as careful with him as she can be. If he dives back down she will give us a call and have us check in for a transfusion.
Yup. You read that right. The Pediatrician will GIVE US A CALL. And she is as good as her word.
Amazing, no?