We had an appointment at Shriner's yesterday. It has been really cold here and so we had to bundle Parker up so he would stay warm.
We started with a hat.
Our Brave Hero wasn't really thrilled with the hat and refused any further photo opportunities.
Being a very wise Brave Hero, Parker catches up on his sleep in order to have the energy to make it through his upcoming appointment.
Once we arrive at Shriner's our Brave Hero is bundled up into his beloved Big Bertha. And, yeah. He's still pretty ticked off about having to wear that hat.
While waiting for our therapist, Dad tries to explain to our Brave Hero what is going to take place today.
Our Brave Hero is less than thrilled.
Even Brave Heroes get the jitters every once in a while.
But after a minute or two our Brave Hero realizes that getting fitted for his AFO's (ankle braces) is really not that big of a deal after all.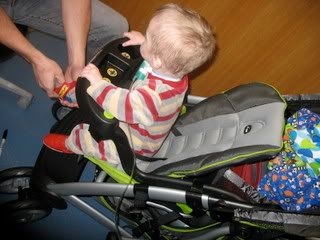 But the best thing about getting the AFO's is that they come with really sweet BIG KID shoes!
So with his new AFO's and Big Kid Shoes! our Brave Hero rides off into the sunset…….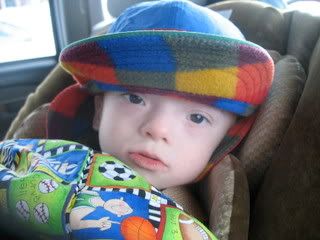 …..and even forgives his Mom for the stupid hat.