We've had a couple of good days lately and I wanted to share with you some of the reasons we've been HAPPY DANCING!
First of all look at some of the love that Parker has received: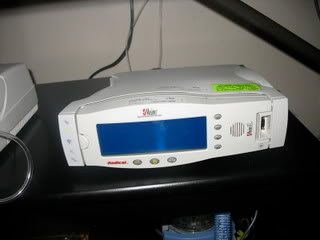 An amazing pulse ox monitor that also converts into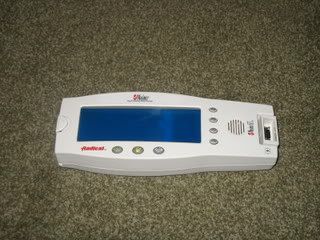 a HAND HELD UNIT. This one will be so much easier to use when we are on the go. Thanks to Parker's new friend (who is also a brand new Dad!) for loaning this to us. We ADORE it.
Jen from Natural Mommies made THIS for Parker: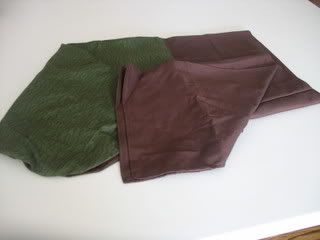 This is a baby carrier that I love. It acts as a Mai Tei and …….well, let me let Jen tell you about it. Click HERE! This picture has been sitting in my camera for about a month now. That is why this carrier still looks brand new. In reality it is now slung over the end of Parker's changing table where I can grab it in a flash. Parker LOVES to be worn! this is so wonderful, Jen. Thank you!
These came yesterday:
TRACH FRIENDLY bibs from Renee, Johnny's Mom! There are a couple of more, but they are in the wash right now. These bibs ROCK at catching all the goobers that Parker can launch out of that trach!
And we found a big box of these on our doorstep!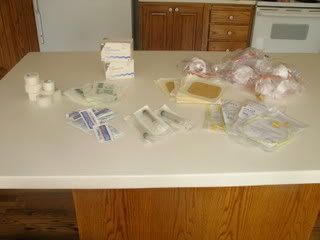 Did I ever tell you that our insurance company expects ONE piece of Duoderm to last for ONE WEEK. The same with Tegaderm. Yeah. And we get one ng tube a MONTH. Uh huh. This box contains all of the above PLUS tape and kangaroo bags to boot! And LOTS OF THEM. Can you spell r*e*l*i*e*f? Thanks Megan, Greg and Abby too!
Giant HUGS and SMOOCHES all around! And Thank you so much.
But we have one more reason to CELEBRATE!
Guess who is gaining WEIGHT? Guess who just about weighs TWENTY POUNDS! If you said THIS guy:
You would be correct!
Such a great few days, no?
I know I have said this before, but it is still so true. Our family couldn't do what we do without YOUR love and support. You make such a difference in our lives. Thank you.