When Parker was born nobody told me that raising a medically fragile child with Down syndrome would be easy.
I could spend my time complaining and bemoaning and all kinds of weeping. Instead I've chosen to empower myself by taking the best care of Parker that I possibly can.
Yup. That's right, empower. The more involved I am in Parker's care, the more I learn the best ways to educate our Brave Hero the stronger and more confident I feel.  That confidence makes me a happier person.
I'm not one to throw grand parties, share fantastic decorating tips, or create worlds of childhood fantasy, or even take great photographs for that matter.
My talents lie in other areas.  Like going toe to toe with the medical establishment as I insist my child receive the best care possible.

Parker received a sweet letter from a neighborhood friend yesterday. It reads:
Dear Parker,
I am giving you some stuf so you can sale it so you can have mony for your generaer.   Is this not the most heart touching letter you have ever read, especially knowing the effort that went into just writing it?
Like you, I want to be the best mother to my child that I can be. I try to provide an environment that entices Parker to grow stronger and reach further.
I choose to actively advocate for the needs of not only my kid, but others as well.
I do a lot of praying. It centers and calms me and allows me to have the spirit needed to receive answers in Parker's behalf.
Yesterday I took Parker to his fantastic speech and feeding therapist. We were talking about some of the things people have said as I have advocated for Parker's needs. We talked about how scared I was of offending people when I stood up and spoke my piece at our local caucus meeting. She looked me in the eye and said, "Who cares? You are advocating for YOUR child's NEEDS." She's the second person who's opinion I value to tell me the exact same words….. verbatim .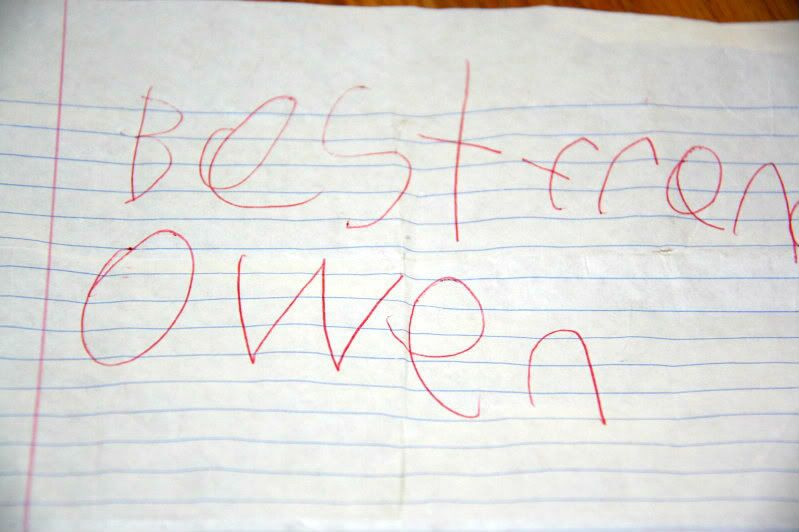 Best frend Owen
I'm thankful for this kid who has changed my life for the positive, and opened up a beautiful world I never would have imagined existed.  I thank God every day for the opportunity to be not just Parker's mother, but the mother of all my children.
No, nobody ever said that raising a medically fragile child with special needs would be easy, but I'm here to tell you that it is totally worth it.
PS:   Many of you have asked when our yard sale will be.  We have it scheduled for May 26th.  And, yes, we would love any treasures discovered from your spring cleaning, that you no longer need.  We are working to provide Parker with a long term power supply to use during power outages.
PSS:  I'm trying to get Parker's Facebook page up and running.  Come and join us!