I'd like to introduce you to a friend of mine, Erin Breedlove.
Erin blogs at Empowering People and Changing Lives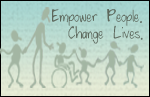 Erin, a college student majoring in Music Therapy, has mild CP.   She understands, first hand, the power of an advocate.
In Erin's own words:
As many individuals with disabilities find, it is often difficult to discover a niche in this modern society that labels people as if they are soup cans or some such material.
I'm Erin, a college student with cerebral palsy. Though my CP is mild, I feel the social effects of it almost daily. Everything from the stares by ignorant people in the aisle of the grocery store to the frustrations of being nineteen years old and unable to drive as of right now seems to get to me. However, it's always easier to focus on the negative when angered by an issue that can't be controlled. I know, though, that I am blessed. I have walked since I was five-and-a-half years old, and despite the doctors telling my parents that I would never learn to walk, talk, read, write, or drive, I could spell my name by the age of two-and-a-half. I also was reading on a first grade level by the age of four.
My life has been spent with the mindset that I have to defy the so-called "standards" set by this cruelty of a modern society for individuals with extra challenges. So it takes me ten minutes to put both of my shoes on, my orthotics, and my socks. Are you going to tell me you're sick of waiting on me to do something independently? I think not!
Throughout my life, there have been many special angels who have spent countless hours dedicated to encouraging, helping, and supporting me, and all the while, they have shown me what it means to care for and to advocate for individuals with disabilities. I have turned the demonstration into passion and into my life's work and have advocated on behalf of and worked with children and young adults affected by disability for six years. I will be attending Georgia College and State University beginning in August to pursue a Bachelor's degree in Special Education.
Erin is the kind of person I wish Parker had in his life.
You know, if she only lived closer.
With a love for life that is down right infectious, Erin is somebody you are going to want to add to your must read list.
Trust me on this one, k?
Erin has a very important audition coming up on January 11th. How about leaving her a comment and a few good luck wishes?