Many families, when bring home a child with a newly placed trach, have insurance companies that provide a certain amount of respite hours a week for the parents. Usually a night nurse comes to help the parents get some much needed sleep. Even those whose children qualify for Medicaid receive a few hours of respite each month.
Reed and I are going it alone. Yup. We're walking the Trach Rope with no net. No sissy respite hours or night nurses for us. We're pulling ourselves up by our proverbial bootstraps and taking on what might send the faint of heart running in the other direction.
And it is beating the hell out of us.
Now we not only have a pulse ox machine beeping through out the night we are also yanked out of our dreams by the high pitched yelp of a vent machine. Over and over and over……again.
Instead of just one cord to worry about tripping over we have three. One for Paker's oxygen concentrator, one for the vent, and bubble tubing going from Parker's trach mask to both the concentrator and humidifier. We have bags of sterile water hanging from different walls and door knobs through out our home. The sterile water is necessary for the new technology to do it's thing.
I need to give Parker meds every two hours starting at 8 a.m. and ending at 10 p.m. We've added several new meds to Parker's arsenal and must be super careful that we keep to the schedule as many of the meds can interact with each other.
Parker is on continuous feeds starting at 7 p.m. This means he is tied to a feeding pole that must move to where ever he desires to be. He is on continuous feeds until the morning or he pulls out his feeding tube in the wee early hours…..which ever comes first. Then starting at 10 a.m. we start bolus feeds which we continue with every three hours.
We spend our time keeping traches clean, snot wiped up, and trying to restore Parker's feeling of security. If I am feeling like a walking advertisement for Traumatic Stress Disorder, I can only imagine what Parker is feeling.
But some things remain the same too. Like Parker's love for his bouncy seat: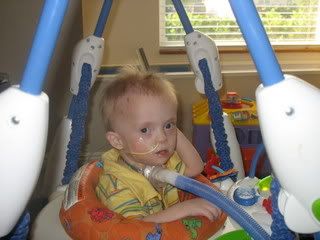 and….
his firm belief that if he closes his eyes for long enough, that when he peeks out again whatever was bugging him will be…..gone. That would be Mom with her camera thankyouverymuch.
Ah..back to the battle again. I can hear the pulse ox's call.