Yesterday Parker painted his alphabet letters with snow paint.   Super simple stuff.  Half glue, half foam shaving cream. Stir.
I have a paint brush shown in this picture. I quickly discovered that Q-tips were much easier to use.
I may have been too lazy to run downstairs to grab Parker's art smock. I may have been really sorry I didn't. This activity was a wee bit messier than I anticipated. Parker, the kid who once had to be begged to put his hands in to anything sensory, now wants to put his hands into everything sensory.
Then he wants to put those hands to his mouth. A habit I am working on breaking. I made sure that Parker had his speaker valve on so that if he got anything into his mouth he would have been much less like to have swallowed it into his lungs.
Yes, we do art projects with our suction machine sitting next to us. Welcome to the life of a kid that aspirates on his own saliva.
But I'll be damned if that stops me from giving this kid every opportunity I can.
Take note of those hands. They are Reed's hands. I love those hands.
These days as soon as I bring out the camera, Parker refuses to look at me. Trying to get that smiling face on film has become next to impossible. I'm hoping he gets over this quickly. It's kinda breaking my heart.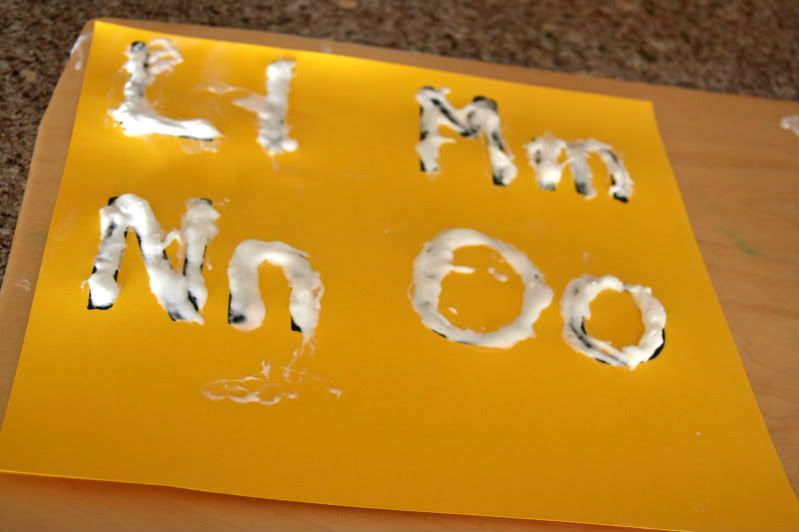 The finished project.
We had to wait overnight for this to be dry enough that Parker could use it to trace his finger over the alphabet letters. I find that the more Parker can trace different textures the better his brain retains the information. I'm always looking for good texture activities.
You don't have to keep your Snow Paint white. You can add a few drops of food coloring to the glue and mix it in before you add the shaving cream. I was going for a bright contrast with the white and super bright yellow.
We'll create with Snow Paint again. Messy or not, this recipe is a keeper. I envision white snowflakes on blue card stock. Black (or gray) spiders on red. And maybe just a small sensory box filled with this stuff and some treasures for Parker to find hidden within the paint.