He wants us to bring Parker in on Monday for an echocardiogram.
These echocardiograms cause me more stress than I can even begin to describe. Enough stress that I usually request Reed go up for these appointments and I just stay home. But Reed has responsibilities he can't excuse himself from and so it will be me and my Mom biting our nails during the procedure.
I'm stocked up on Zantac. Anyone got an extra Valium they could spare?
An echocardiogram is where they measure Parker's Pulmonary Hypertension levels. The last two echocardiograms showed that Parker's numbers were steadily rising. Rising isn't the way we want them to go. If as in Parker's case, PH numbers rise high enough, PH is quite often deadly. There have been two children on the PH list that I am on to lose their fight to this disease in the last few months.
One is hoping for a heart lung transplant before time runs out.
My shoulders are already tense. I know I won't sleep well tonight. I can't seem to get enough of Parker. I hold him to me as if just my determination alone could heal his heart and lungs.
We do have a bit of something going for us. Parker's upper airway is a mess. It collapses when he sleeps and then his little tongue falls down over that, just about totally sealing off his ability to get the needed amount of oxygen to his lungs. This is a prime cause of Pulmonary Hypertension. If, by CPAP or a TRACH, we can circumvent this closed off airway, we have a good chance of reversing his lung pressures.
But at the same time Parker's lungs are underdeveloped. When you look at Parker's lungs on a CT you can see larger veins (think the large branches of a tree), but not many smaller veins (think the smaller branches of a tree). He needs those smaller veins as well as the larger ones so that his heart doesn't have to work so hard to pump oxygen rich blood through his lungs. Underdeveloped lungs are also a cause of Pulmonary Hypertension. One that very well not be curable.
So, it is a double whammy. A bit of hope here a bit of despair there.
Monday's echo will let us have a bit of a better idea as to whether Parker's PH levels are due to his upper airway issues, and because of the CPAP are doing better. Or if they may be being caused by yet something else going on if when we get the results back and the levels are higher.
We went and had a blood drawn done today to check Parker's BNP levels. The results from this test will let us know how hard Parker's heart is having to work. His cardiologist also requested a stool sample be dropped off to the lab to check for Enteroviruses. The Echo virus, which can cause a heart to weaken, to be exact.
Buckle up. I've got a feeling it's going to be a bumpy ride.
Now if I can just remember to breathe.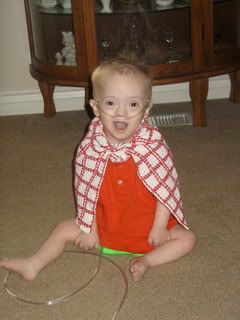 Super Parky!