90% of all prenatally diagnosed unborn children with Down syndrome are aborted. NINETY percent.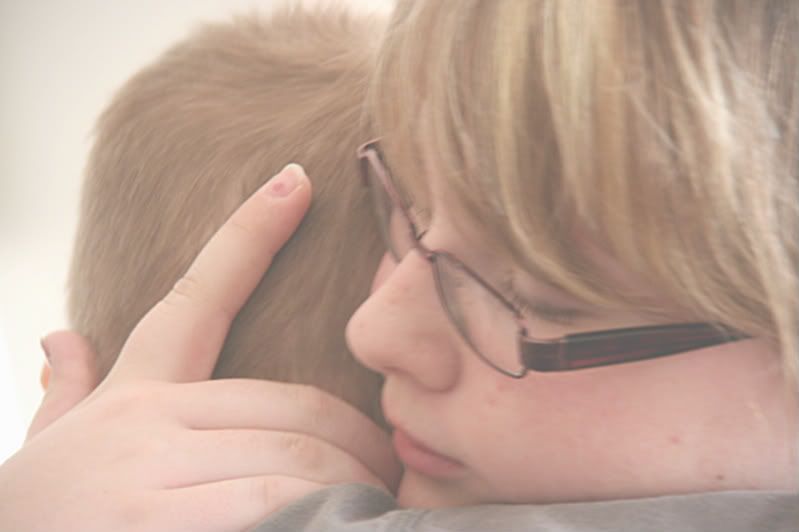 That leaves only 10 percent given the opportunity to take their first breaths.
Perhaps it has to do with the way the diagnosis  is delivered.
Misinformation begins early. Here is a page taken from a currently in use NURSING book published by Nursing Education Consultants, Inc.
This is an actual page from a text book currently in use in many nursing schools.
The picture isn't great and it's hard to read what is written on it, so I've copied it below:
Down's Syndrome
(btw, it is DOWN syndrome….NOT DOWN's)
Eyes: inner epicanthal folds with short sparse lashes
Mouth: Protruding tongue  Arched palate
Hands: Short, stubby fingers  Simian crease
Nose: Small with depressed bridge (Saddle nose)
Gen*talia: Small Pen*s  Cryptorchidism
Mental Retardation With Developmental Delays of Varying Degrees
Yes, these can all be signs of a child who has Down syndrome.  They can also be signs of kids without.  Parker has no Simian Crease.  Flat face profiles run in my family.  And Reed's neck is about as broad and short as they come.
But that really isn't the issue here.  The issue is the way the information is presented.  The degrading, insulting,  mocking manner in which Down syndrome is being addressed by the use of the picture depicting a person with Down syndrome.
I question the professionalism not only of the creators of the publication, but the nursing colleges that teach from it.  Remember, many colleges receive tax payer money.  YOUR money…..going to represent those living with Trisomy 21 in such an unprofessional and disgusting way.
This issue needs to be addressed.  I hope you do too.  Here is their contact information:
Nursing Education Consultants, Inc.
P.O. Box 644
Waxahachie, TX 75168
Phone: 1-800-933-PASS
Fax: 1-972-923-1938
Review Courses: info@nursinged.com
Books: books@nursinged.com
PS:  Down syndrome isn't the only diagnosis mocked in this publication, bulimia, Alzheimer's and others are presented in the same disturbing way.