This winter has been one for the record books.
Mild temperatures.
Not enough snow for a Hero to be pulled around on his beloved sled.
But the sick.  Oh, have we had the sick.  Parker is just now starting to get over his latest sinus infection.
I love experiencing the seasons with Parker.  The excitement and opportunities presented within each cycle.   So before Spring gets to settled in I wanted to have some Snowman fun with Parker.
He's still not feeling 100% in these pictures but being the great sport he always is, he shared a smile or two during the creation of winter via the mediums of glue, paint and paper.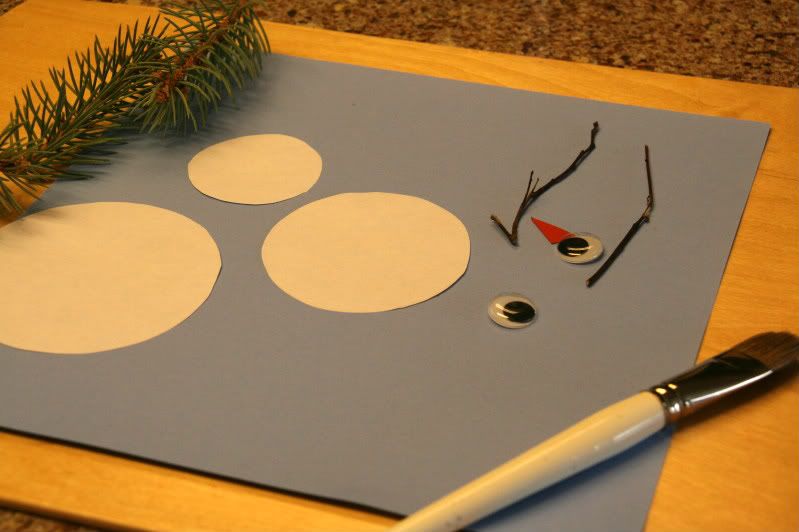 Snowman making provides the perfect opportunity to review circles, sizes (small, medium, large) and colors. Before starting this activity we pulled out all our circle puzzles and had a fun review. Then we went around the house and talked about the circles found within our home like our wall clock, the dials on some of Parker's medical equipment, jars, etc.
Getting some help with getting the glue on those googly eyes. We hand over hand a lot of stuff not because Parker isn't capable of doing it himself…..but because I'm never sure when he's going to decide to huck a glue laden paintbrush across the table.
He'll go for a long time not throwing stuff, and then…..out of the blue, decide that my walls would really look better in a bright shade of red.
Oh the concentration.
Notice the glue under his nose? By the time we were done he had it in his ear, his hair, and on his feet. Don't ask.
This might look like a one-eyed snowman to you. But to this Mama it looks like 15 minutes of intense small motor success.
Next on the list was to make it look as if it were snowing. We've painted with all kinds of things before. Flowers. Herbs. Potatoes. So I thought these Evergreen branches would be fun.
Boy, was I wrong. Parker grabbed a hold of that branch not realizing it's sticker-y texture and almost shot straight out of his chair.
Opps. Mom's bad.
We finished painting the snow flakes with a paper towel wrapped around the branch to dull some of the sensory experience.  Those needles were kinda sharp.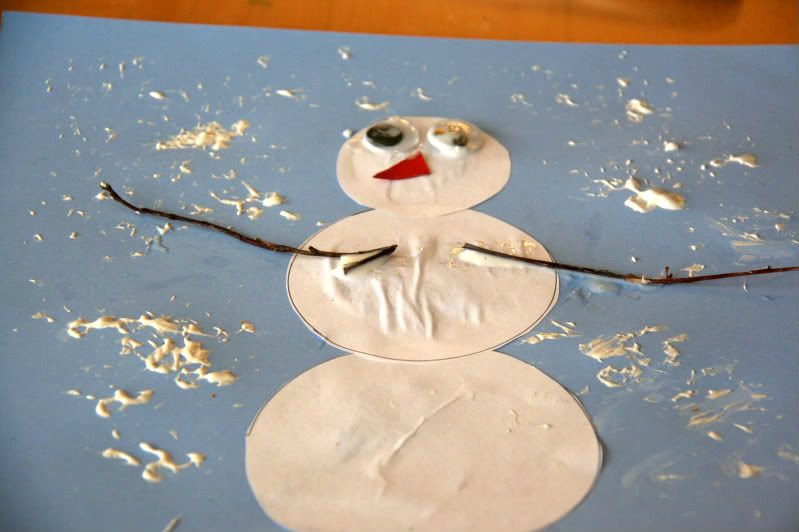 The finished product…..twig arms, a 'carrot' nose and all. Yes, I realize most snowmen have hats and scarves, but our Brave Hero was totally beat by this time. Remember, he's been sick.
So we called it a project and now Mr. Snowman is waiting patiently to be gifted to Parker's Gam when she comes over tomorrow.
Some of the books we've been loving this Winter: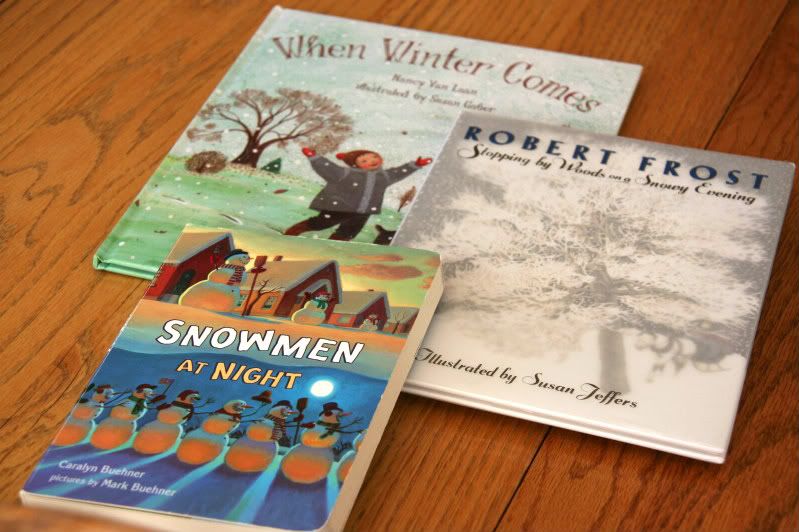 I must read the Robert Frost book to Parker 10 times a day. He loves it. It's rhythm, the pictures…..gorgeous.
Jan Brett. What's not to adore? We just picked up her Noah's Ark book.
What are YOU doing with your kids to get a last bit of winter fun into your days?
PS: Before you leave please take a minute to click over to Today's Creative Blog.…..One of Parker's Newest Sponsors!