First, invite her to go with you and your family to the first big BYU game. This will have her worrying so much over whether your grandparents will like her that Homecoming will be the absolute furthest thought from her mind.
Second, ask your Mom for help. Send her to the house of the girl you want to invite (who is with you at the game at the time) so she can:
Pin up a life-sized drawing of a Knight in Shining Armor
with an that invitation reads:
To Princess McCall of the Highlands,
It is at the request of Prince Dereck, so of William and Mary, that this message is sent to you. His Majesty cordially invites you according to your wish and desire, to the Homecoming Dance in the land called Lone Peak on the 22 of September. I will await your reply.
Request the floor to be strewn with rose petals:
And leave a knight and dragon to guard the Princess' heart: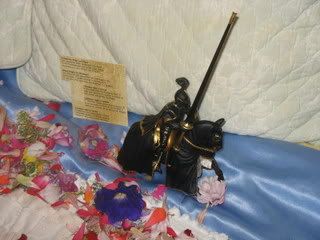 And if you just happen to be the Prince for whom the heart of this Princess has been known to go pitter-patter……..well, that's just icing on the cake.
Of course, as the Mom of the Princess, I was just happy to know that her room was clean when the Mom of the Prince came to visit.