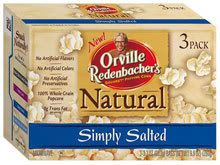 I don't think I have been to a movie……well since Parker was born. Imagine that. We do try and rent a few here and there as a family activity or for a couple of hours of escape from the real world.
So when I saw the latest contest from 5 Minutes From Mom I got a wee bit excited. A year's worth of FREE popcorn and movies from Netflix. A dream come true for a Momma who spends 99.7 % of her time at home keeping a certain little muppet we all know and love healthy.
The winner will be drawn Jan. 1st. If you would like to join me and the other FIVE HUNDRED hopeful souls in entering this contest head on over HERE and hook yourself up.