This jumperoo is one of my all time best purchases. Parker loves this thing. Even when he was so small that I had to put towels in the bottom and 2 phone books underneath it so that his feet could touch something, he has loved this.
Parker can make this puppy soar!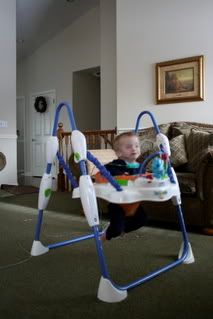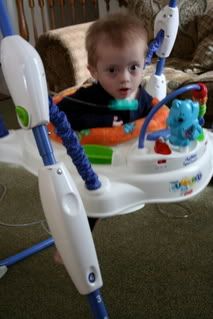 And while I have your attention. I need to pick your brains again. One of Parker's new OT goals is to stack at least 10 blocks. Which doesn't sound too bad until you discover how much Parker HATES to stack blocks. Knock them over? Groovy! Stack them back up? Not so much.
The blocks we have are simply too small to stack up 10 high. But look everywhere though I have, all I can find are the smaller, painted variety of blocks. I KNOW that when my kids were younger we had some buffed, but otherwise unfinished blocks that were pretty substantial in size and made stacking much simpler.
So if anyone knows where some of these sort of blocks could be found. Please let me know. Cause….. me and Parker…. we got some stacking to do!