Brant received his mission call yesterday. This is truly one of the biggest days in a young man's life. And with his typical flair, Brant made the most of this opportunity.
He must have invited close to 40 people over for the Big Reveal. My house was packed. Brant is like the Pied Piper of young adults. He has always had the ability to walk into a room and become instant best friends each person there. 10,000 texts is a slow month for my oldest son.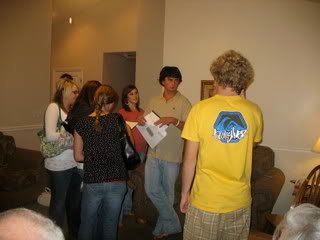 Hanging out with just a few of his adoring fans. 😉
Brant opened the packet from Salt Lake and with a heart that held just a wee bit of hope for a two year stint in China, then read to us that he was needed by the Lord to serve for 24 months in the Long Beach California SPANISH SPEAKING Mission. While the rest of the room erupted in cheers I knew that Brant had just one second of surprise to discover that he would be serving so close to home.
But then the Spirit bore witness to him that this indeed was the place where people had been waiting for just this time……the time that my beautiful son would enter into their lives and share with them the most glorious message of eternal life and the love of our Savior Jesus Christ.
And all was right in the world.
The picture behind Brant is one of Christ sitting on the hilltop watching over the city of Jerusalem.
So if in mid December any of you living in the Long Beach/LA California area happen to come across a very tall, very handsome, slightly nervous young man wearing a suit and tie and trying to master a reaally bad Spanish accent, would you please be kind and encouraging to him?
It would do this mother's heart good.