Pssst…….I'm also over here at Faith Lifts today. I'm tying to get back in the swing of things with my Frugality Posts. Stop by and visit, k?
With Parker aging out of Early Intervention this November he should be transitioning into Pre-school. But when you have the kind of health issues that Parker does, sending him anywhere isn't the best of plans. So I have been spending time putting together a curriculum for Parker. I know what I want, but I wasn't able to find just the right thing, so I am taking a bit from here and a pinch from there and creating a curriculum that is geared just to Parker.
As a brand new three year old I'm not so interested in having him memorize his ABC's and count. I want more of an exploratory environment. One with lots of hands on activities, movement, literature, signing, and the excitement of discovery.
I want each lesson plan to focus on only one objective. Our first lesson will be on pumpkins. Just pumpkins. With finger plays, sensory experiences, art projects, songs and books. I'm not going to go into the life cycle of a pumpkin or counting to 20 with pumpkins. These objectives can wait. I'm keeping it simple, fun and engaging. I'm creating an experience base here. A good foundation to build on.
But while I'm creating thematic units, Parker is still busy. He's been creating masterpieces with several different mediums. Yesterday's medium consisted of two markers, a piece of paper and an older brother:
The medium:
The artist:
(Yeah. I know. One day I really need to learn how to crop a picture.)
The ever helpful big brother: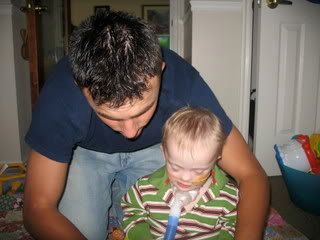 "Dude!" "I can SO do this myself!" "Pul-ease!"
Now I have to start all over again……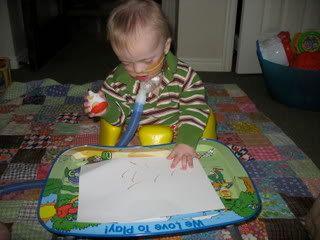 Ta-Da!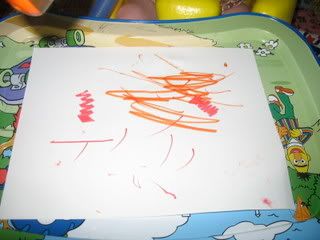 psp movie creatorin the movies rapesample movies sapphicfree movies 89ass movies blackmovies dog529 movie dogfartdownloadable movies hentai freesex free movietit free movies fucking