That is what Melody from Slurping Life is calling it.
Our family is calling it an amazing blessing. Amazing. Blessing.
A few weeks ago Melody contacted me, while she was in the midst of a major move and lifestyle change for herself and her family none the less, and offered THIS:
and THIS:
along with prizes from many other wonderful bloggers as a beautiful way to love on Parker.
Did I mention the words Amazing and Blessing. Words cannot possibly convey our family's feelings on this. My Dad was even left speechless when he heard about this opportunity for Parker. And may I just say that my Dad and speechless don't find themselves in the same sentence often…..or ever.
You can find out ALL the details at Slurping Life.
And yet another act of total love: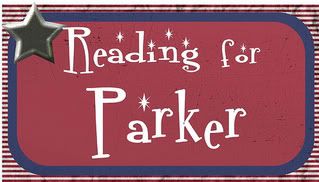 Julie at Rarely Home Mom will donating the profits of all of her OSBORN book sales to Parker's Medical Fund…..starting today! PLUS the books you buy will earn you raffle tickets to Melody's Love Offering gifts over at Slurping Life.
Click HERE to learn more about READING FOR PARKER.
And, if you would, could you let those that read your blogs know about these acts of pure love? Keep them in the loop as this week goes by and next Monday, the grand kick-off, arrives? And ask them to tell their friends too!
It would be an amazing blessing to our family.