What a day. Parker has been so ornery and grouchy. I don't know if he is getting sicker, or if he is trying to cut a new tooth. I got a pretty good look at all of his teeth today as he screamed bloody murder the whole time I was trying to brush them.
With the Pulmicort treatments he takes it is very important that I make sure I take exceptionally good care of those teeny tiny little pointy needles he grows for teeth. His top ones aren't so bad…….but those bottom ones-Whoa!
I tried everything today to get this little one to feel happier. A nice bath. Lots of holding, rocking, and swaying. I even broke out the Big Guns in the form of the More-Of-A-Mess-Than-You-Could-Ever-Imagine- RICE BOX. This is usually a huge hit for the P-Man.
I'm just not feeling the love, Mom.
Well, since you went to all that work, let me see what I can do here…..
Did I get enough in there?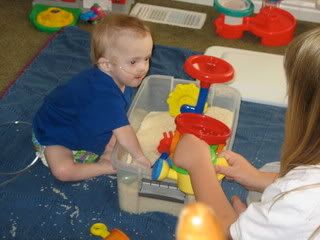 Let's try one more time here…….
On second thought Kensley, how about if I just sit here and watch you play in the rice instead.
The lure of the rice box lasted for about 8 minutes. Clean up took 25 minutes. Sigh……..
I'm up monitoring Parker's O2 levels and heart rate. His oxygen is running a little lower than it should be and his heart rate a little higher. I haven't put his CPAP on him yet because he needs to be asleep for at least an hour before he is zonked out enough that we won't wake him up putting it on.
Think happy thoughts for us, okay? And get a few hours of sleep for me…….. 😉