Before I get to far into this post, I wanted to comment on Parker's hair.  I was hoping that maybe, just maybe 7 would be the magic age during which to grow out the Brave Hero's hair.  I imagined thick hair cut in the style of cool.  Alas, Parker's hair still grows straight…out.  Think dandelion.  sigh.
Perhaps 8 will be the magic age. A Mama can dream, right?
________
It doesn't matter how many hours Parker may spend outside, the moment after he re-enters our home,  he yearns to be out again.
It doesn't matter what part of out it is, as long as he can touch the trees, sit in the grass, and fill the space with his joy.
Just like his brothers before him, to be truly happy Parker needs to commune with the freedom that can only truly be felt outside. It's the mark of a genuine Hodson boy.
So it isn't surprising to find Parker biding his time at the windows, dreaming of his next grand adventure.
I can't help but wonder what's going through his mind? He is listening to the sound of our woodpecker? Dreaming of going down the slide?
Or planning a great escape? I'd better be careful. Once he gets strong enough to lift up that window a smidge more, he may make a get away.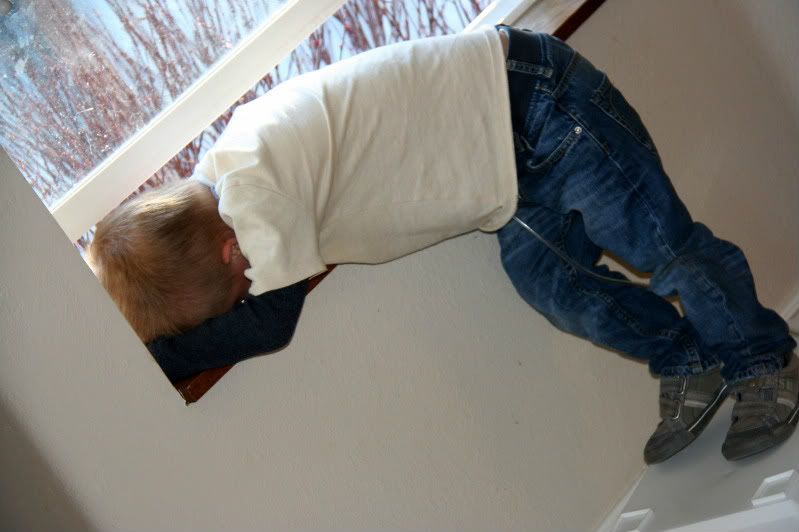 Oh, the places this kid is dreaming of to go..
Where is YOUR kid's favorite place in all the world to hang out?
PS: Yes. I do indeed realize that my windows need to be washed. I'll get to them just as soon as I finish the bazillion other cleaning jobs that are on my list.