Those that live at my house know that this Cupid isn't a fan of baking sugar cookies.  The rolling.  The cutting out.  It seems to take all day.
So coming home to hot from the oven Valentine Day cookies was recognized as a labor of love.  The cookies devoured in a heartbeat.
Because of Parker's swallowing issues, he can't eat cookies. Cookie crumbs in your lungs are not a good thing, to kinda quote Martha.
Here's where it gets so sweet.
One of the foods that Parker is 'cleared' for is room temperature cream cheese. Usually I add a touch of hot sauce or Mrs. Dash to Parker's cream cheese. Today I turned the cream cheese into frosting….the perfect consistency for this Hero of mine.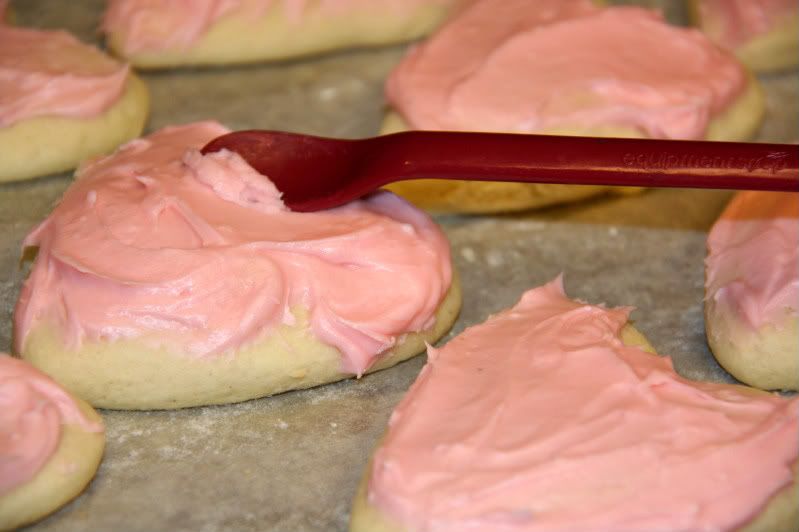 He didn't get much. Just a taste or two. I'm still too scared to do more than that. And right after I suctioned his trach a little nervous of having some pink show up, a sign that it went down the wrong way.
Each time I gave Parker a taste he would rub his belly and say, "Yuuuum.." He was so thrilled with something so simple, yet unaccustomed…..and for him wonderous.
I wish I could have captured this scene on video. Fact is, I was too busy wiping the tears from my eyes. This kid (as well as all of my others) makes me so thankful to be alive.
PS:  The sugar cookie recipe I used came from The Girl Who Ate Everything.  I highly suggest you grab you a copy.  The frosting recipe was also hers, but with cream cheese and not so much whipping cream.