I have a sick kid today. A really sick kid. I'm hoping I can keep his lungs safe enough to keep him out of the hospital the next few days.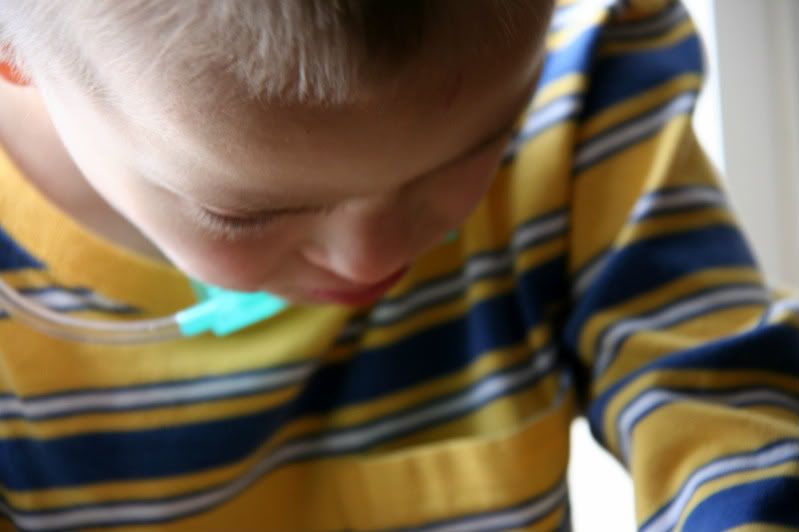 We took Parker in on Wednesday for an Upper GI. I worry about his Nissen when he throws up over it as easily as he does. Something as simple as throwing up can be life threatening for this kid of mine.
Two words:   Aspiration Pneumonia.
An Upper GI is not the most trustworthy means of testing for Parker. He went through many of them when I was trying to beg someone to take the fact that I KNEW he was aspirating seriously. Finally, while sitting in the surgeons office, he burped up a mouthful of barium, and we had our proof.
Unfortunately by then the stomach acid had trashed Parker's epiglottis beyond repair.
It seems as though the Nissen is still in place. We'll meet with the surgeon soon to see what he has to say.
Yesterday was the FEES study. It's where they stick a prob down Parker's nose and watch as a feeding specialist tries different foods of differing thickness and we watch to see if Parker is able to swallow it without it going directly into his lungs.
Yesterday's feeding therapist wasn't our regular and was clueless. I kept telling them that I KNEW he wouldn't be able to handle nectar thickened foods when the kid aspirates on his SPIT for crying out loud.
I was proven correct when a few minutes later Parker's trach filled with the blue dye used in this procedure.
I have set up some appointments with a feeding specialist/speech therapist in Orem to work with Parker on pudding thickening swallowing while protecting his airway and then moving to honey thickened foods. In six months we try another FEES and see how things look.
One thing we were able to see is that Parker's epiglottis still has no sensitivity, but doesn't look as inflamed and cobble stoned as it once did, suggesting that he isn't aspirating as much as he was.
It was suggested again yesterday that we move Parker from his crib to a bed that has the ability to be lifted at an angle that would address the aspiration issues. Being on night time continuous feeds is the perfect scenario for someone with as high of an aspiration risk as Parker as.
We turned our application into both our private insurance and Medicaid to see if one or the other would provide Parker with a Sleep Safe Bed (or any other brand, we aren't picky) to help with the aspiration issues and keep him safe from his current fall risks in his crib.
We were told that here in Utah Medicaid has recently tightened up with their approval of these types of beds, providing them mainly for kids with seizure disorders, or kids that are totally immobile.
I'm thankful seizures aren't a part of our daily life. Parker's aspiration risks are high enough to be on the list of stuff that could kill him. Aspiration is a big cause of Pulmonary Hypertension and poses the life threatening risk of an aspiration pneumonia.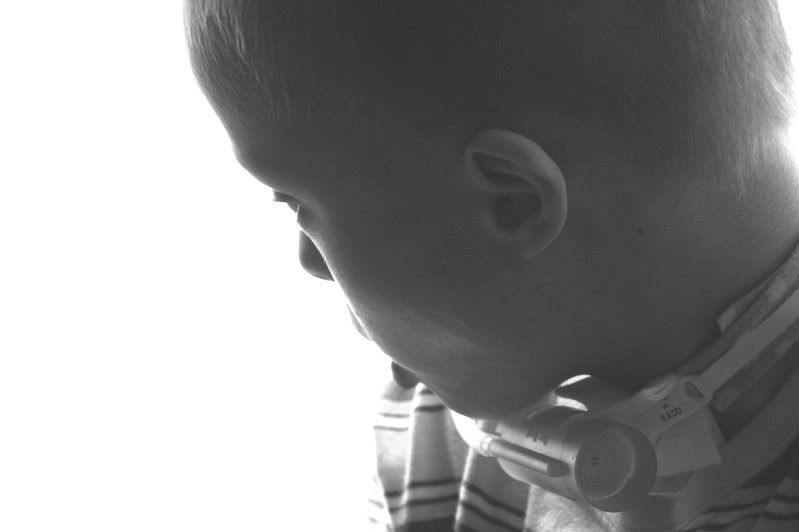 Our private insurance? Well, after talking to them let's just say we have a greater chance with Parker's Travis C. Waiver coming to our rescue……and that chance is slim according to the new acuity requirements they read off to me. We'll know for sure in about 90 days.
Welcome to Utah.
How a bed that could keep Parker safe from falls and potential strangulation AND protect his airway AND help heal his lungs from aspiration assualts while helping with Parker's Pulmonary Hypertension is considered to be mainly a 'CONVENIENCE ITEM' is beyond my understanding.
What we need doesn't have to be NEW, or FANCY. I don't care what it looks like, I just need for it to keep my kid safe.
Trust me, a surgery to repair Parker's trach stoma is going to cost a LOT more than a piece of durable medical equipment, not to mention another week's hospital stay for an aspiration pneumonia.
Too bad insurance companies can't grasp that concept.
PS: Frustration is living in a state where so many insist you 'host a BBQ' for your child's needs instead of relying on any government help, while at the EXACT SAME TIME having someone else spreading the lies that Medicaid covers everything, ergo we must be running some sort of scam.
PSS: Keep your fingers crossed, maybe send up a prayer or two that we are able to provide Parker with the items we need to keep him safe and alive Maybe whoever reviews his bed application might be in a really good mood and understand the necessity?