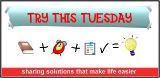 When you have lots of wires, tubes, and stomas hanging out of you, it is only natural to want to grasp, fiddle and explore them.
And the perfect time for exploration? Why bath time of course.
We found the solution to this situation to be a simple pair of socks. They make securing a pincher grip much harder.
And by acting as mini wash cloths, they serve to redirect Parker's attention to helpful activity. We put a teeny bit of bath gel on each sock and then sign 'wash' to Parker.
He then joyously starts to scrub a dub – dub while he's in the tub!
Click on over to www.5minutesforspecialneeds.com to read more great idea's from the new meme, Try This Tuesday!
And remember, EVERYONE is welcome to join in!