Parker's ENT wanted to see our little guy today. Here's the scoop:
Parker met with his ENT today.
The results:
He is now on Cefpodoxime one of the ENT's "Big Gun" antibiotics.
They did a blood draw to check out his Quantitative Immunoglobulins, IgG IgA, IgM, IgE.
In other words they are wondering if he was even born with an immune system at all.
We go back up for a Sweat Chloride Test next week. This test checks for CF.
He will be scheduled for a sedated MRI to see if there is anything in his upper airway that needs to be 'tacked up' or 'reduced' that may be blocking his upper airway.
The ENT told us that since so much of Parker's PH is tied into his upper airway issues the time is approaching when we may need to trach him in order to circumvent these issues. There is going to come a day when his BNP and PH levels skyrocket and we won't be able to reverse them. Plus he is worried that one day Parker might throw a mucus plug that I can't dislodge and that would be the end of one little Hodson kid.
I will call tomorrow and let the cardiologist know what the ENT is thinking.
I don't think we will make the heart cath this month either.
I will say I had a moment of public panic when the word trach was mentioned. I'm not a nurse. I bawled today when they totally bungled the blood draw for Parker. I am scared to death to be home alone 24/7 with a kid that has to rely on a trach to breathe. Although he said that it would be closed off during the day and open during the night? huh? I'm an idiot about stuff like this. I'm scared spitless that I will do something wrong that will do major damage to Parker.
I mean how many bags, tubes, cords and bells does one little 19 pound 2.5 year old need to have hanging off of him?
I am so thankful for Reed. Having him there taking the lead today was wonderful. It was even okay that he teased me all day long for bringing up my camera to take pictures. Taking pictures helped take my mind off the stress and worry of a BNP coming in at 892.
Wanna see 'em?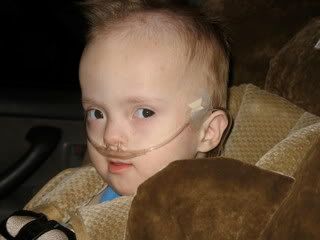 On our way up……….
Parker letting us know just what he thinks about having to be weighed.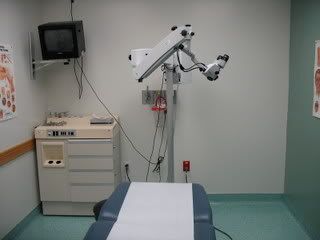 Waiting for the ENT.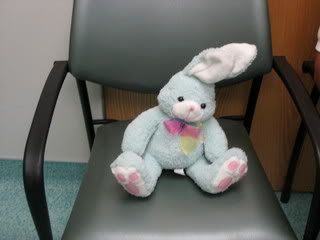 The bunny Parker was given for being so brave while undergoing torturous events while at PCMC. Parker was less than impressed, lol!
Where Mom and Dad stop off for a much needed Dr. Pepper over ice. It's a great place to get a soda but you wouldn't want to eat there.
Parker's cardiologist just called to see how Parker was doing. This is the ONLY doctor that has done that for us. Dr. Day is our "go to" man. NOTHING happens to Parker unless Dr. Day is aware of it and gives approval. Without this man I don't believe that Parker would be here today. By the way, it is 9 P.M. here and Dr. Day still calls.