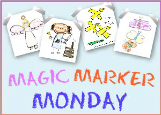 This week I introduced Parker to some new 'all in one paint brushes.' These brushes have the washable paint inside of them, so all a kid has to do is paint!
Uh. Yeah. We are still working on the proper grip thing.
And notice how Parker's art pad is bigger than he is?
sigh…. Yeah. We're working on that too.
Big sister Micky helping with Parker with his grip.
Do you know how you can spot the true artists from the wannabes?
True artists always have their feet beautifully painted, of course.
And the completed masterpiece.
Want to join in on the fun of Magic Marker Monday? Go here and find out how!