My dad grew up in an orphanage.  His dad died when he was young, leaving his mother to raise a family of 4 kids by the money she earned cleaning homes.  Because she was gone so often working, leaving the oldest to tend the younger, a neighbor called the then version of DCFS because the noise of the kids playing in the yard during the summer annoyed her.  We know this because my Dad did the research and found the actual document.
Lovely, eh?   Got to love bitter people even if for no other reason than we are commanded to.
When the authorities came out to investigate they had papers for my grandmother to sign.
Except my grandmother couldn't read. Too proud to ask them to be read to her, she signed, after being told that by doing so the state could then 'help' her children.  They were actually papers signing away her rights to her children.
My Dad and his sisters were taken to an orphanage that weekend.
My Grandmother was heart broken.  My Dad remembers his Grandfather taking the kids to the orphanage.  My Dad adored my grandfather.  He often hopped trains (at the age of 5) to go across town to visit him.
My mother's mother, my Granny, came to Texas in a covered wagon.  She dropped out of school in the third grade in order to help on the family farm.  She never went back to school.  My Granny raised a family of 5 with a 3rd grade education.  She had a garden and chickens in her back yard.  She worked long days candling eggs to put food on the table as her husband, while a hard worker during the week, would spend his Friday paycheck getting drunk over the weekend.
(Years later and finally sober, he redeemed himself as he took care of my Granny when  Alezheimers struck.).
I never knew my Dad's parents, or my Mom's father.   I remember my Granny well.
My Granny's Platter.
I think of her often.   Sometimes I imagine I can feel her standing next to me reminding me that there is nothing I can't handle.
I think of her when times get tough and I often find myself wondering what she would do if she were in my place.
While not perfect, she was a strong woman with a good heart.  Her cooking from scratch included wringing the chicken's neck as well as scalding and plucking it.   I can't image being a single woman in those days trying to raise a family by what she made looking into egg shells to determine whether it had been fertilized or not.
Maybe it's because of my grandparents that I find myself so fascinated with stories of those who lived through the Great Depression.
Our kale is up! Our kale is up!  They want $2.99 for a small bunch of this stuff in the store.  *faint*
Not only survived it, but who took it head on with a 'can do' attitude, gathering their family together and making do with what they had.
I'm reading such a book right now.  A family that went from riches to poverty almost overnight.  A family that after losing everything, packed up what was left and moved onto a farm circa. 1870 and began to rebuild their lives.
We hope to plant 5 thornless raspberry plants here soon!
The home had no central heat.  No bathroom.  No running water.  The foundation was bad and the 'newer' part house sagged in many areas, keeping the family confined to the original log cabin part of the home, dirt floor and all.
The father, at first too proud to take any job that didn't require a tailored suit and gold cufflinks,  refused to follow the mother's lead as she spent weeks cleaning out the home to make it somewhat liveable.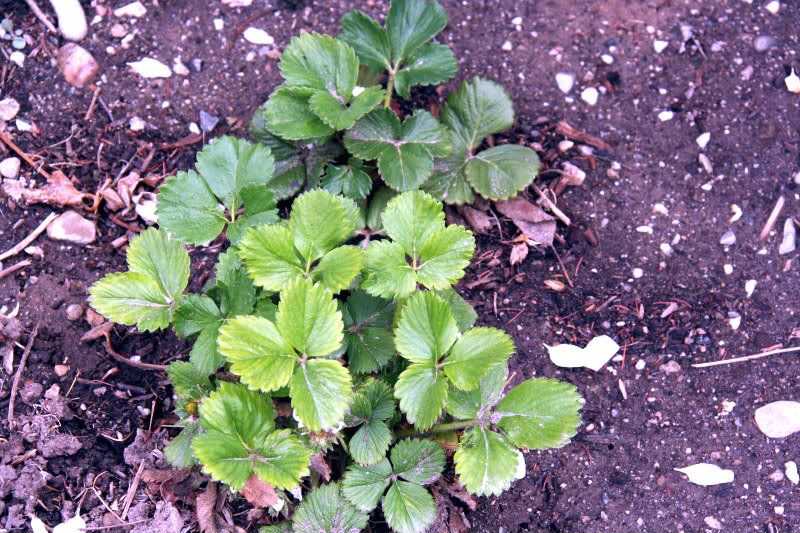 24 more strawberry plants are on the agenda for this Spring.   We eat them fresh, frozen and dehydrated!
Finally resigned to the need to find odd jobs to keep food in their stomachs, the father also  took small amounts of his faint income and purchased seeds to plant a garden and bought 500 chicks to raise and sell to help provide for their needs.
I relate so well to this family, as I find our family in situations that we never dreamed could be possible.
8 years ago I had no idea what an oxygen concentrator was, that children were trached, or what suction machines were used for.
I'm learning the same techniques used by my Grandparents and by those who lived through the Great Depression are needed in our situation too.
A glimpse of our 2012 pea crop.  Can't wait! 
A positive spirit.  A 'can-do' attitude.  A determination to keep your family going regardless of what is thrown at you. Creativity and the ability to think outside of the box.  Digging deep for the strength to get up one more time.
While my family's situation is different than my ancestor's, I hope they are looking down with a bit of pride as I drawn on their strength of character to make it through our own unique hard times.
I hope they know how much thankful I am for their example.