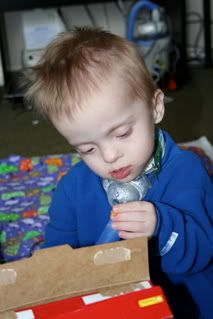 It is moments like this that can make the heart of a Momma with a medically fragile kid sing! Just watching Parker be a boy helps me believe that one day he will do all things typical: running! playing with friends! hanging out at the ball field! shooting buckets on our driveway!
And most important of all, being healthy. We just want so much for this amazing little spirit to be healthy.
We still have lots of hurdles in front of us. A right heart cath in February. The reality of his Pulmonary Hypertension. Two very invasive surgeries in order to reverse his colostomy. The intense recovery time from those.
Then there is the depressing certainty of our financial situation due to overwhelming medical debt. I especially miss the days when this wasn't such a constant nagging voice in the back of my mind.
I worry about these things. Lose sleep over them. Spend great amounts of time on my knees petitioning for help concerning them.
I miss the days when I didn't have to worry about the grocery budget. When I didn't have to make intensely detailed lists to make sure the monthly trip for supplies lasted for all the days needed. The days when a lost coat wasn't the cause of major stress. (How are we going to replace THAT?) The worry over the gas tank being full enough to last until the next paycheck.
But sometimes I think that all the trials we have been through make each of Parker's belly laughs sweeter. His healthy times more appreciated. The simple joys of his growing up more meaningful.
And for those things I give thanks.