Most of Parker's first years were spent in my arms sitting in a rocking chair inside of his 'safe room.' Sick far more often than he was healthy, we spent much of the time reading books.
Parker wouldn't allow me to turn the last page of a favorite book because he didn't want it to end.  Instead we went back to the beginning and read the same story again.
Parker's love for books has stuck with him.  We use his favorite stories for a reward after working hard in therapy, or completing a lesson.  While he enjoys books on his iPad, by far his favorite is still old fashioned bound variety.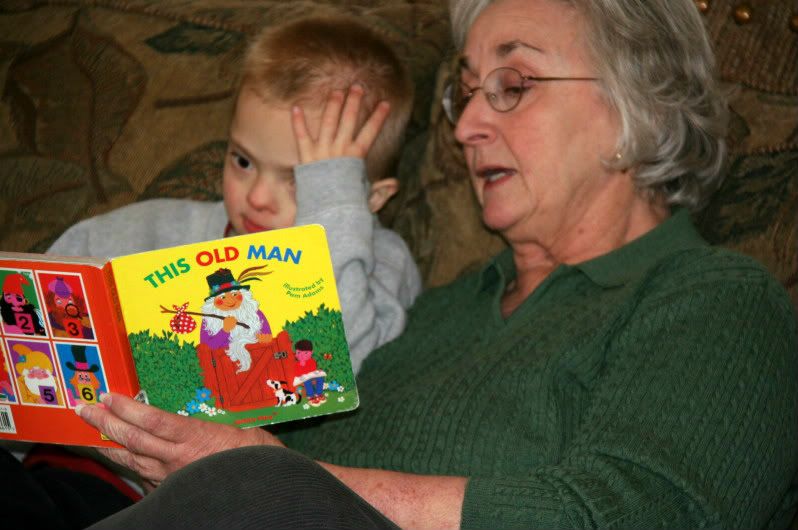 I have to agree with Parker on this one. While technology is great, I still relish time with an actual book.  Much to any librarian's chagrin, I have dog eared copies of my favorites on my shelves, mostly reference books that I  connect with again and again.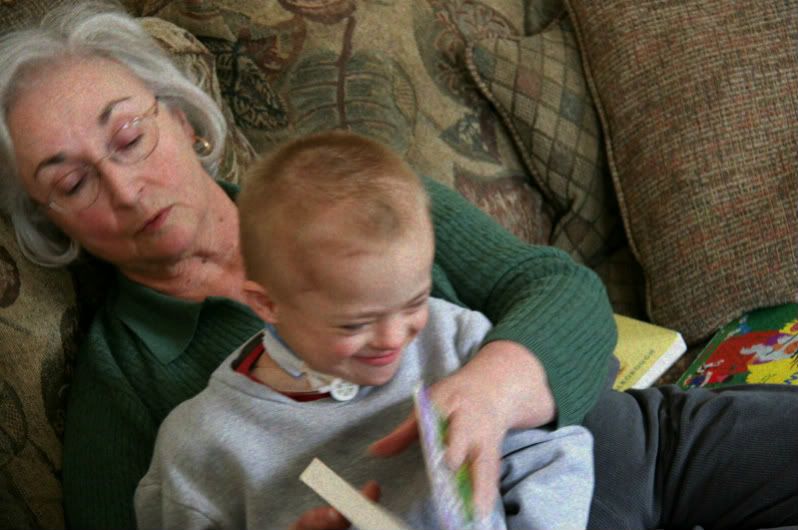 Friday Parker's Gam (my Mom) came over to spend the day.  Being an only child, my Mom and I are pretty close.  But as it is a huge pain to have to load up Parker's giant oxygen concentrator to go to her house, she usually comes to ours.  (I could just take several O2 bottles, but the tubing would be SO much shorter and Parker would have no freedom of movement….and he LOVES to move all over his Gam's house.  heh.)
I remember telling my Mom that I knew Parker would be born with Down syndrome.  She didn't blink an eye.  It made no difference to her.   We'll love him just the same as your others, she said.  You'll have to work harder with him because his future will depend on how well you prepare him while he's little.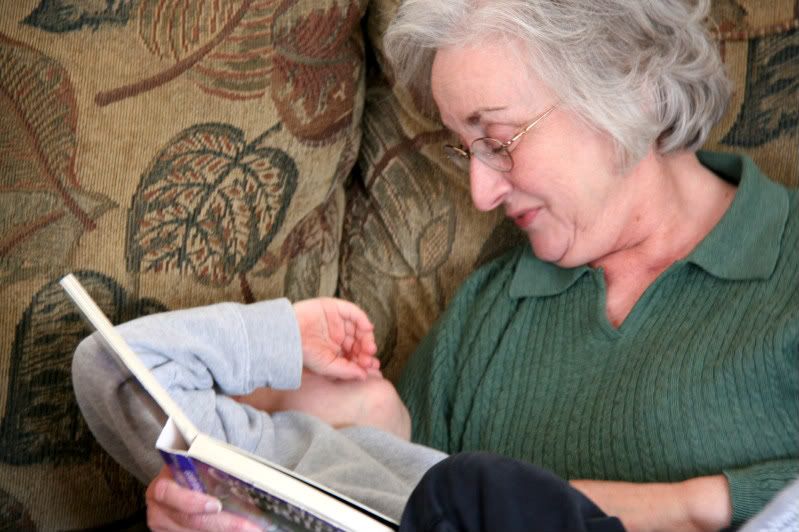 My Mom adores Parker and often teasingly says that Parker was really supposed to be hers.    She spent many days up at PCMC with me as Parker circled the drain after different surgeries.  I have no doubt that her great love for him is one of the things that helps to keep this littlest Hodson boy here with us.
When I get especially fearful about Parker's future and that damn Pulmonary Hypertension, my Mom reminds me of the times she prays for Parker and in her mind she sees him as a man, still healthy, still strongly here on the earth.  "His mission in life takes him far from his childhood, Tammy," she reminds me.
Maybe that's one of my Mom's gifts to me.  The ability to remove herself from my fear and share with me the message of the spirit: to have faith.  To believe.