Brant goes into the MTC 11:00 a.m. Wednesday morning.
I figure that on Thursday, if I'm still not bawling my eyes out, we can finally start on a little bit of Christmas spirit around here. We've done minimal decorating this season with all the extra curricular stuff going on. But that's okay. I just keep telling myself that the less I put out now the less I have to put away later.
But just so you don't think I'm a total Scrooge-ish kinda gal, I thought I'd share a few of my favorite things:
(Please remember that my camera is dying a slow and very painful death. Add that to my less than stellar photography skills….and well….)
The view from my love seat. I actually have a beautiful Santa picture that I usually replace this picture with. But for today this works.
See that Believe sitting right there on the shelf: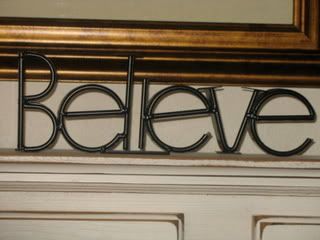 This stays here ALL YEAR LONG. So does this one:
I have lots of these. Believe is my 'go to' word. As in, "I believe that Parker will one day be a totally healthy little boy running around causing all kinds of mischief….exactly like his brothers.
On my table:
This needs some greenery or an amazing wreath to circle around it's bottom. I'll be on the lookout this summer at yard sales.
On my island in my kitchen:
This candle was a whopping $2.50 on clearance with about $3.00 of real plastic diamonds. I know. Klassy, eh? Believe it or not it looks very pretty in real life. With the lights turned low, those plastic diamonds glitter like the real thing. Almost, anyway.
On our tree: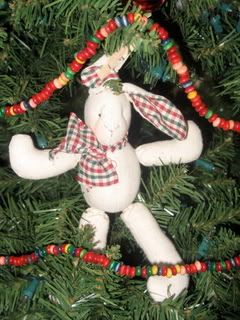 The tree:
Under the tree: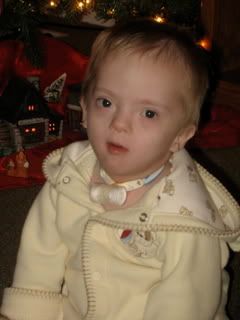 What our family wishes you this Christmas season: