The latest pre-school project? Making Tambourines. Wanna join in the fun?
You will need:
Two sturdy paper plates. (Acting like giant squirrel bait is optional.)
Jingle Bells (You can also use dried beans, popcorn, etc.)
Jingle Bells? What Jingle Bells? I don't remember you giving me any Jingle Bells….
Paint! (Washable suggested.)
Markers!
Paint and decorate the outside of both paper plates.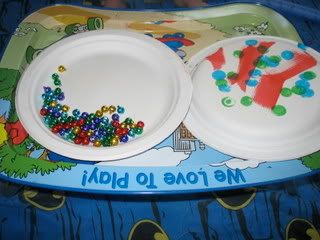 Load up one paper plate with Jingle Bells. Then hot glue your second paper plate on top of your first. Like this: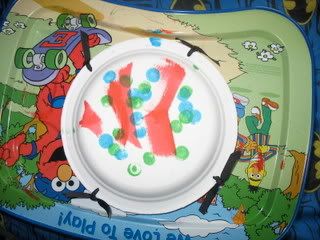 Using a hole punch, punch holes around your tambourine. Tie off each hole with a piece of ribbon!
Now you are ready to rock out!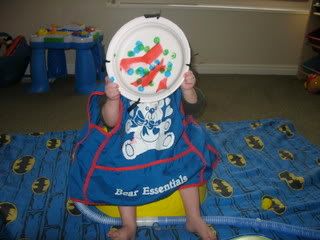 Oh. I forgot to tell you! The art smock I'm wearing? ALL of my older brothers and sisters wore this when they were in pre-school too! It's become a family tradition!
Well, that's it! Hope you have as much fun with your tambourines as I do with mine!