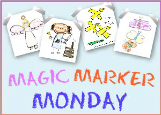 Excursions into the field of art with Parker can be….uh….how do I say this..
terrifying.
The weeping. The wailing. The gnashing of teeth.
And that is just from ME, folks.
Ahem.
But, since I believe art is such an important part of a child's learning experience, I persist.
Our latest endeavor is entitled Autumn Leaves.
The Technique
The Medium
The Beautiful Assistant, McCall
The Concentration
The Glow That Follows A Job Well Done
The Masterpiece.
Magic Marker Monday is a new Meme hosted by Michelle (from In The Life Of A Child) over at 5 Minutes For Special Needs.
This Meme is open to EVERYONE. If you have a child, a grandchild, a niece, a nephew, ANY child in your life that loves to create, you are invited to participate. It is by no means reserved just for children with special needs.
Just kids that are special. Period.
So. What are you waiting for? Come on over and join in the fun!