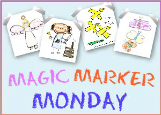 Parker's Preschool Unit has been all about apples.
We've read books.
Listened to flannel board stories.
Shared in fingerplays.
And the art.  Can't forget the art.
I had to cut an apple into fourths so that it would be small enough for Parker's hand to pick up, dip in paint and then stamp with.
And to add to the fun, Parker even squished his hand in the paint and stamped with that too. Only a Mom of a kid with special needs would truly understand the giddy burst of joy that inspired.
And if you look really close, you may even see the twinkle of glitter that Parker shook everywhere.
Cause shaking with the proper grip is an OT goal. And we are all about the achievement of goals around here.
Especially the really fun and messy ones.