The last few days have been rough.
Really rough.
With a few moments of scared spitless thrown in for good measure.
But the knowledge that there are so many of you out there wrapping our Brave Hero in love and prayers, well it is so very comforting.
I'll let you in on a secret. Sometimes I find myself needing to do a little leaning on the prayers and faith of others. Just until I catch my breath again.
Parker's friends, Janice and Susan from 5 Minutes For Mom created a page of online games, the advertising revenue from which will go straight into our little guy's medical fund.
I can't begin to tell you how often these two sisters have blessed my family.  They are dedicated to making a difference through the medium of blogging, and they are certainly living up to the commitment.
You can go to this post and grab the Playing for Parker button to put on your blog if you would like. If we can get enough people Playing For Parker we just might be able to put a little bit something into a certain Hero's bank account for medical needs.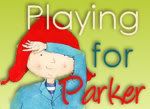 And if you have a minute to spread the word, well that would be pretty amazing too.
A certain outrageously cute little four year old will also be featured at KidzOrg on Wednesday too. Tara has an amazing blog dedicated to kids with special needs. Tons of fun stuff to be found over there.
One thing that can't be denied.  This kid.  He's loved.
Please continue to keep Parker in your prayers.  The power of prayer is real.  They are worth more than gold  Our family is proof of that.