When you have as many kids as I do, your washing machine is never idle. In my house laundry has the ability to reproduce in the blink of my eye.
One of the few ways to make an unpleasant job a little nicer is the laundry products you use. Products that just don't work great, but smell great too. My friend Melody is hosting a giveaway for THESE: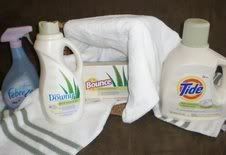 Kinda cool, eh?
Check out Slurping Life for all the details and how to enter!