Wednesday was Parker's first official day of school.
Well, kinda.
He arrived at 10:30 and left at 11:30.  Yup.  One entire hour.  Considering Parker's health, I think that's pretty remarkable…..for me that is.  (ahem)
We did all the usual first day of school stuff:
The Traditional First Day of School in front of our front door picture.  Parker was less than impressed.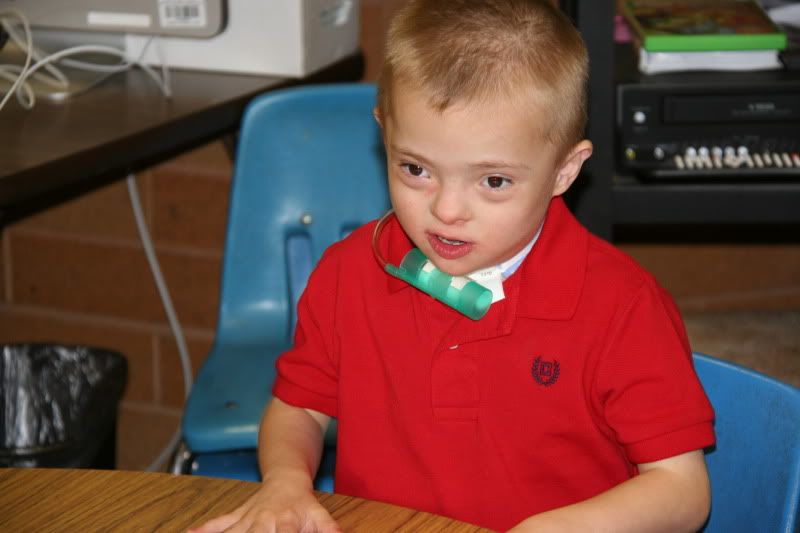 But once Parker got to his classroom, he hopped right up into his seat and began his assignments.  It was as if he had been going to school from the beginning.
I'm PROUD to say that Parker's classroom is a small groups class.  It is a classroom where all the students have some type of special need.  It's not a babysitting situation.  Parker's teacher works with her students and gets results.
A typical classroom for Parker right now would not be in his best interests. Parker's educational timeline is uniquely his own, with progress being made in his sight words, math, and alphabet review and signing skills.
This isn't to say that Parker will be going to school on a daily basis.  His health won't allow that.  However, during the less 'sick' months, when Parker's health allows, I'm planning on taking him in a few hours a week.  We'll still homeschool, but it's time for this beautiful kid of mine to have some experiences that take place outside these four walls.
We've finally set the date for our yard sale. May 19th. My entire neighborhood is pitching in and we are humbled and grateful for their support.
I turned in the paperwork to 'legally' register our yard sale with the State of Utah. Part of the requirements included a letter from Parker's Pedi. In part her letter reads:
"This (yard sale) is a genuine effort on the part of Parker's parents to be self reliant and avoid unnecessarily burdening family, friends, and the State of Utah."
Reed and I work hard to be as self reliant as we possibly can. We garden. I cook from scratch, buy in bulk and coupon. I dehydrate and can. We purchase second hand and …..simply go without. You know what? It's a lifestyle we have come to love. It's a life changing blessing that I am happier for having discovered.
It's a leap of faith that requires me to build my faith as I trust more and more in my Father in Heaven.
As I've gone through my own stuff to add to our yard sale offerings, my family has made comments such as….."you sure you want to sell that…..and that?" Yup. I do. Parker needs a long term generator and I need less stuff to stress over and keep clean.
It's a total win-win.
Life is good here at Parker's house.

PS: This year we are adding raspberry canes and 24 new strawberry plants to our 'self sufficient' arsenal. With the cost of food going UP, growing as much as we can ourselves simply makes sense.
How about where you live?