Please Click on the Button Above for Info on the Praying for Parker Benefit Concert.
Reed just took Parker down to AF for a new blood draw for a BNP, a Liver Panel and Crit levels. This is after playing telephone tag all day long with AF swearing that Primary's had never faxed the order down and Primary's saying they had a copies of the faxes sitting right in front of them showing they had indeed been faxed. oy! Then they send down an order for a BMP instead of a BNP. I kept saying "N" as in Nancy, but finally they caught on when I used "N" as in NUT JOB……uh hello?
Please pray that Parker's BNP levels are down. If not they are going to want to admit him and run some more tests, etc. And please pray that his Crit levels go up so we can avoid transfusing him again. He's already had 3. The low Crit could be driving up the BNP levels too. They may also check his stool for blood from his stoma as that could be another reason his Crit is so low. There have been times that this kid was so pale he could have glowed in the dark.
I , of course, shall be a bit of a mess in fear of those BNP values skyrocketing even higher. But they way I see it is that I'm the Mom and that's just part of my job. 😉
Parker had a rough day yesterday and we almost took him up last night, but he perked up and had a some what decent night. He isn't wanting to eat anything and I am wondering if his tummy is funky from the antibotic. But he has kept his meds down.
Parker goes in for the sedated MRI and the Chloride Sweat Test on Monday. They are going to scan his upper airway and his lungs during the MRI.
I know I ask for prayers every time I turn around but I truly believe that they are what keep Parker here with us. Prayers and Dr. Day.
Hanging out: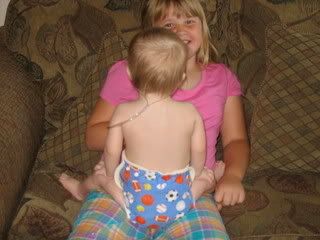 Parky teaching Kenny how to sign "Shoe!"